Arrows
& ARROW MAKING SUPPLIES.
Arrow shafts from ¼"to 23⁄64" in Scots Pine.
3⁄8" to ½" in Ash or Poplar (Out so stock at moment!)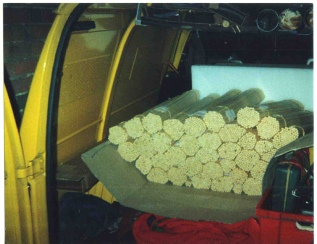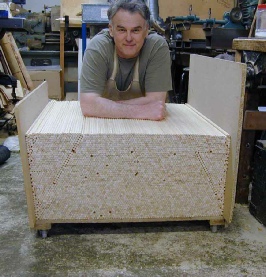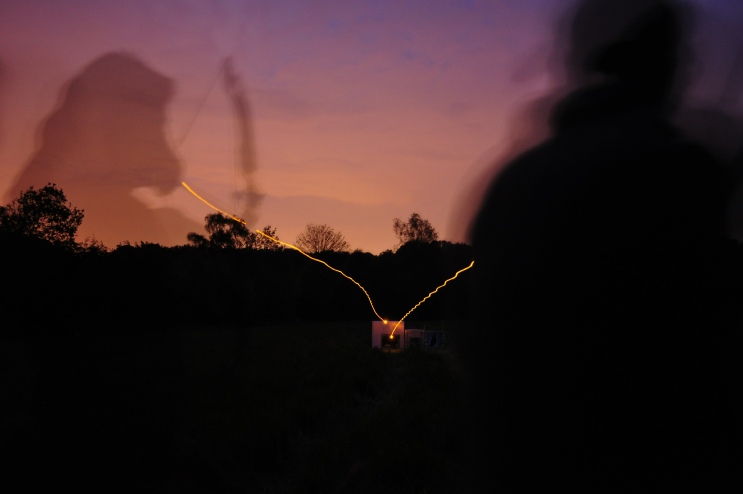 ABOUT SCOTS-PINE ARROW SHAFTS.
Pinus Sylvestris, also known as Silver Fir and Norway Pine.
Chris Boyton, of Boyton Archery in England, started making Scots Pine arrow shafts about thirty-eight years ago, when we couldn't get Port Orford Cedar from the USA. The Cedar, Chemyceparis Lawsoniana (Lawsons Cypress), Had been felled at such a rate that, to save the trees and the wildlife that depends on them, felling was stopped. POC is now used again, but it is 'deadfall' that is brought out by helicopter by the lumber companies.
For months we couldn't get arrow shafts from North America and the situation was getting desperate. It was then that Chris decided to have a go at making shafts in the quantities needed to supply the UK market as well as several other countries, including America!
After experimenting with several different woods, Chris found that Scots Pine, grown in the cold northern countries of Scandinavia, was the most ecological wood available in the quantities needed. Although other woods worked, and were very good, there is problems getting enough that is good enough and planted faster than it is being harvested and, therefore, ecologically friendly.
The photo on the left is the very first batch of arrow shafts made by Chris Boyton. Shown here in the back of my van.
On the right shows Chris Boyton with a trolley full of shafts ready to spine.


Unfortunately Chris passed away in 2018, and his arrow making equipment was taken over by Dal's Archery. Darren spent a lot of time with Chris, learning the 'ropes' as he wanted to take over when Chris retired. Unfortunately that wasn't to be…but Darren has worked hard to sort out the machines and turn out shafts that are every bit as good as Chris's.
Thanks to Chris leaving me the machine that makes the 9/32" and the 1/4" I can now carry on making those for the light weight bows that so many of us use.
Chris also made Ash and Poplar shafts. These are suitable for mediæval style arrows and Longbow Society 'Standard Arrow'.
Hopefully these will be available again later this year.
Hopefully we will be out of this lockdown in the not too distant future, and you can all start getting you arrows matched to those new bows you had for Christmas.
Take care!

THE ARCHERS 'PARADOX'
This photo, taken at night with a very long exposure camera, shows the paradox that can't normally be seen with the naked eye. The nocks have an LED light in them allowing you to see the spin and paradox quite clearly.
Although not longbows the same thing happens with all arrows. The bow on the left is a compound, the shadow is the archer getting caught by the camera and walking out of shot before the arrow had arrived at the target. His arrows don't match, as can be seen by the odd down up and down 'curve' in flight
The bow on the right is a recurve. The arrows match the archer and bow, as the smooth 'curve' from archer to target shows. The 'archers paradox' (the 'wiggle' the arrow gives in flight) is really obvious in this photo.
Some of my large stock of Boyton Archery/Dal's Archery arrow shafts.
I keep many thousands in stock as to spine match arrows takes a lot of shafts!
I colour code the ends to make my life easier and to stop 'you-lot' (!) mixing them up!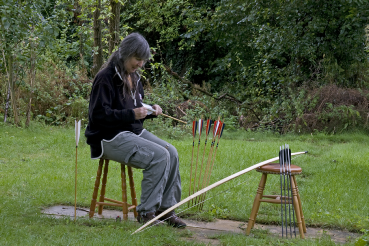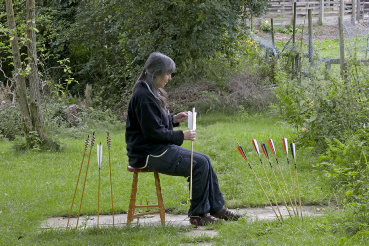 Fletching a medieval arrow out on my range.
My Hilary Greenland self yew bow as well!
Shafts are £31.80 per dozen as they come.
I charge £7.20 to match them and £15 to weigh them or £22.20 for both.
I have 1/4", 9/32", 5/16", 11/32" and 23/64" in Pine.
I also do Poplar 13/32" at £3.00 each and 1/2" at £3.50 each. I also do 1/2" tapered, which are £4.00 each. (None left at moment, sorry!)
For both field and target archery I would suggest spine-matching but there is no need to weight match for field archery, although for target it might be an advantage.
The 'problem' with weight matching is that each set of a dozen shafts will be matched to each other, usually within 20grains, but it is not always possible to repeat the weight even though another set will again be matched to each other for spine. It does mean you can't always 'top-up' the set you have, but will have a separate set.
It's wood, it grows in strange climates and weather. The likely-hood of getting the same weight out of a different tree…..well I leave it to your imagination! But spine, or bend is, surprisingly, easy to sort.
I spine in thousandths of an inch so a really good match is possible. I also mark the arrow shafts with a pencil line so the 'cock' feather is always in the right place on the grain lines.
Probably the most important part of archery is getting the arrows correct. Without a straight shooting arrow you will never be good.
I have an arrow matching service, with most spines made up with different pile weights as well. I charge £30 for this and it is well worth the visit to my workshop.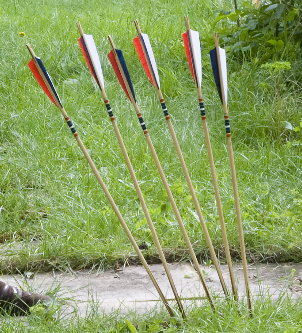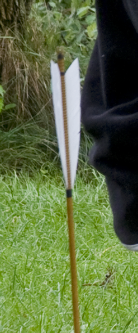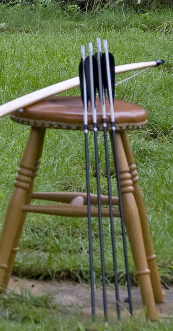 The arrows I use for teaching and also arrow matching to you and your bow.
As you can see I need dozens and dozens, to arrow match.
The arrows are in different baskets for different diameters. With 1/4", 9/32", 5/16" and 11/32" in different spines and pile weights.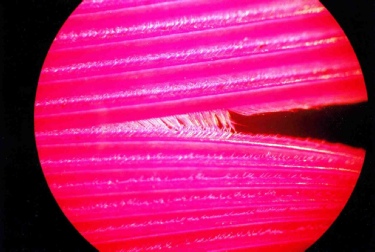 Several years ago this photo was in the Trueflight trade update. I asked if I could show it in my book (Yeah! I know!!) and was very kindly sent this amazing image.
It shows how feathers are natures 'velcro', and the way a feather can be pulled apart and still go back together.
Thank you so much, Trueflight, for allowing me to use this photo.
Photo courtesy of Trueflight Feathers. ©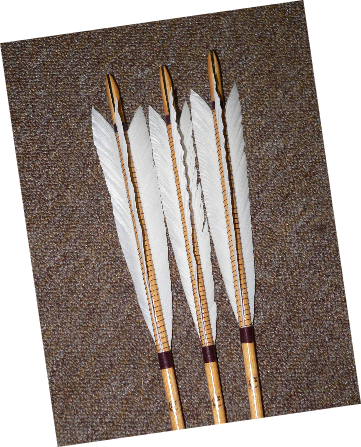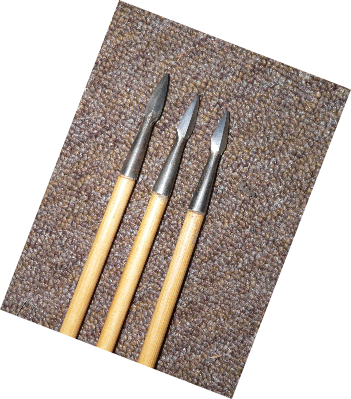 Some of my horn insert, self nocked arrows, with Hector Cole's type 10 bodkins. (Hector Cole Ironworks)
And below…how to make a horn nocked arrow.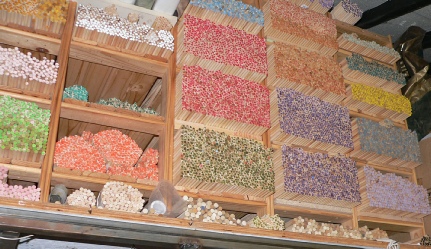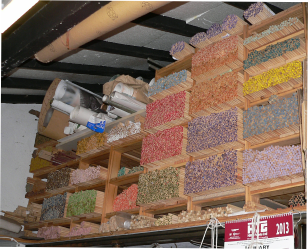 ♦ Matching arrows to you and your bow is sooooo important! ♦
I can't stress enough just how important!
If you buy 'cheap' 'practice' arrows/shafts then that is what you will get…cheap
Unless you are really lucky the likely-hood of them shooting well is very remote, and they are unlikely to match how you shoot your bow.
There is nothing more soul-destroying then shooting and shooting and getting no-where.
If you can't get to me to try lots of different specs, then try and borrow as many as possible and get a friend to watch how they fly. If they flirt about then they are NOT right for you. ♦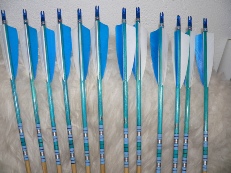 Made these for some friends.
Hadn't crested any for a while, but I think these look pretty good…even if I do say so myself!